Output voltage there is no change of unevenness with kinds. Although output comes out only 7000V, in order to 60 minutes to be cut off with the timer, while sleeping, also it is difficult long haul to use.
In case of PH-6500 of the Previous Model, because the timer to 8 hours has been attached, this one is easy to use.

Medical equipment approval number
PH-7000
21200BZZ00747
PH-7000A
 
Rated voltage
AC100V
Rated frequency
50-60Hz
Timer
10.20 30.40 50.60 amount
Effective voltage
7000V
Electric power consumption
7W
External size
Width 390 x depth 247 x height 250mm
Gross mass
8kg
Selling agency
Health Inc.
Manufacturer
YUTAKA Electric CO., LTD.
Country of manufacture
Made in Japan

Part standard set for Power Health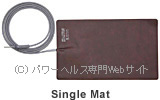 Selling agency: Health Inc.