In order to expand the selling price band, being something which increased the number of types, name just is different from PH-13000, medical equipment approval number or output voltage etc is identical.

Medical equipment approval number
PH-10000
21200BZZ00745
PH-10000A
 
Rated voltage
AC100V
Rated frequency
50-60Hz
Timer
10.20 30.40 50.60 amount
Effective voltage
Crest value high 11000V it is low 5800V
Electric power consumption
14W
External size
Width 390 x depth 247 x height 250mm
Gross mass
9kg
Selling agency
Health Inc.
Manufacturer
YUTAKA Electric CO., LTD.
Country of manufacture
Made in Japan

Part standard set for Power Health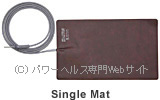 Selling agency: Health Inc.