Presently, while being produced, it is the type of the highest output.
As for these two types production approval number has become 21600BZZ00093, 218AKBZX00004000 and 222AKBZX00086000 , but structure and efficiency are all identical ones. First production approval number was acquired with PH-14000, but being afterwards, when coming to the point of recovering production approval number, because with the same name it is impossible, it is something which is renamed 14000A and 14000B.
(In production original corporation health verification being completed)
In the second hand market as for PH-14000A and 14000B still, because it is little, PH-14000 of identical efficiency the recommendation.

Medical equipment approval number
PH-14000
21600BZZ00093
PH-14000A
218AKBZX00004000
PH-14000B
222AKBZX00086000
Rated voltage
AC100V
Rated frequency
50-60Hz
Timer
10.20 30.40 50.60 amount
Effective voltage
Crest value high 13500V it is low 7200V
Electric power consumption
17W
External size
Width 390 x depth 247 x height 250mm
Gross mass
10kg
Selling agency
Health Inc.
Manufacturer
YUTAKA Electric CO., LTD.
Country of manufacture
Made in Japan

Part standard set for Power Health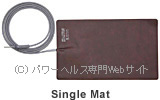 Selling agency: Health Inc.